| | |
| --- | --- |
| Posted on June 18, 2019 at 4:40 PM | |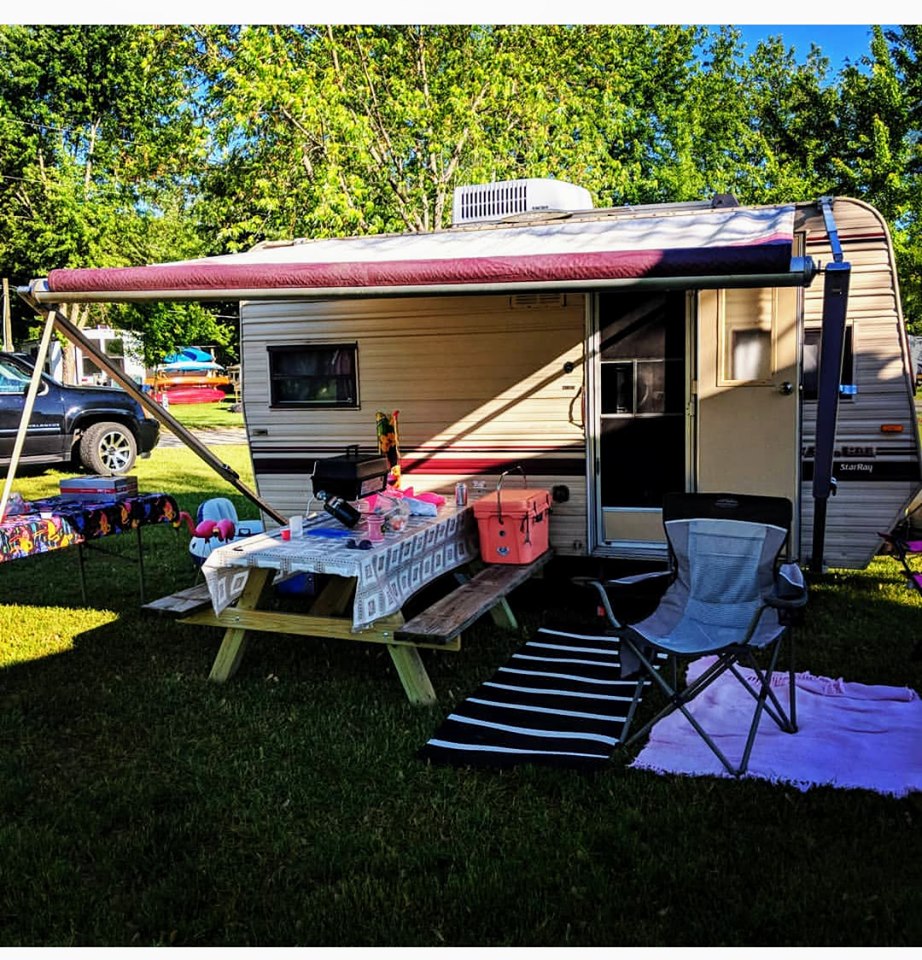 So You're Going Camping, where do you start?
Before you leave, there is a lot to do like list making, packing, planning and more planning.
It all starts with a want and a desire to get outside and sleep under the stars. To become closer to nature while recharging our batteries, camping helps to clear out our minds and dust off the cobwebs in our heads.
Some of the questions that need to be addressed before hand include things like; Where are we going? When are we going? What time are we going? Who is going?
Decide on what type of camping you are going to be doing, whether it is roughing it, back packing, tent, camper, trailer, pop-up, RV and oh so many more to choose from! Then do a little research on it like watching videos, reading blogs, talk to friends and/or picking the brain of the sporting goods store salesmen or better yet, hit up some social media platforms such as Women Camp Too :).
Make sure to plan accordingly in case of rain and chilly temperatures to help make the camping trip more enjoyable. This can be achieved by:
Packing extra tarps and bungee cords to hang over the tents, campfire wood, picnic table, cooking area, and anything else you would like to keep dry.
Bringing along rain gear such as coats & rubber boots and umbrellas.
Be sure to pack and keep dry, kindling, matches and even charcoal lighter fluid. This will help to aid in cooking and warmth.
Having extra blankets, sweat pants, warm hoodies, coats, and of course warm dry boots will also keep us comfortable in case the weather turns badly.
You don't have to buy a camper, trailer, pop-up, or an RV in todays world. You can just rent one. Also, don't forget, borrowing a tent from a friend works well too.
Careful planning usually includes making lists such as, What do you need to buy from the store? What do you need to pack? What do you need to do before you leave? Different types of camping requires different types of lists.
When you make it back home, please allow plenty of time to unpack, clean up, wash items, reorganizing for next time and more unpacking. It is always helpful to remember if it rains while packing up at the campground, to make sure you open up all soaked items to let them dry thoroughly before sending them to storage. This will help to keep items from getting mildew, mold and musky smelling.
If you are going camping with family, going with friends, or going it alone, you will always have a good time if you plan ahead!
****See examples of Check Lists below. All three can easily be modified to suit your needs.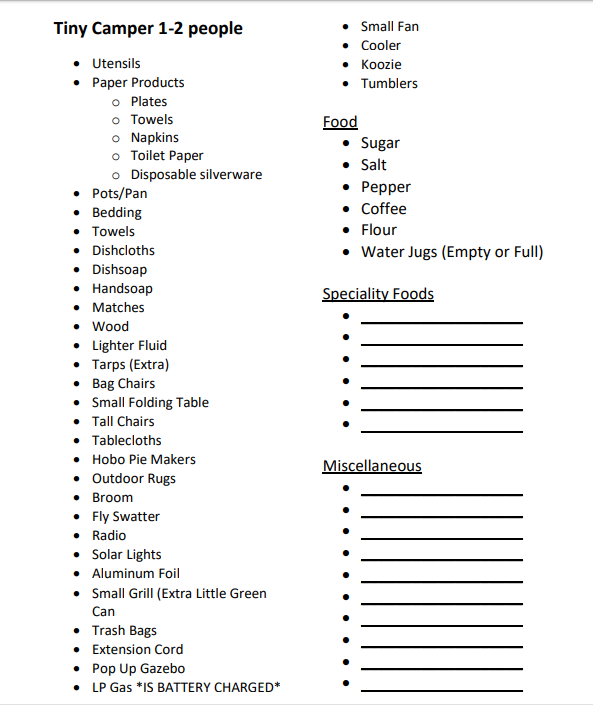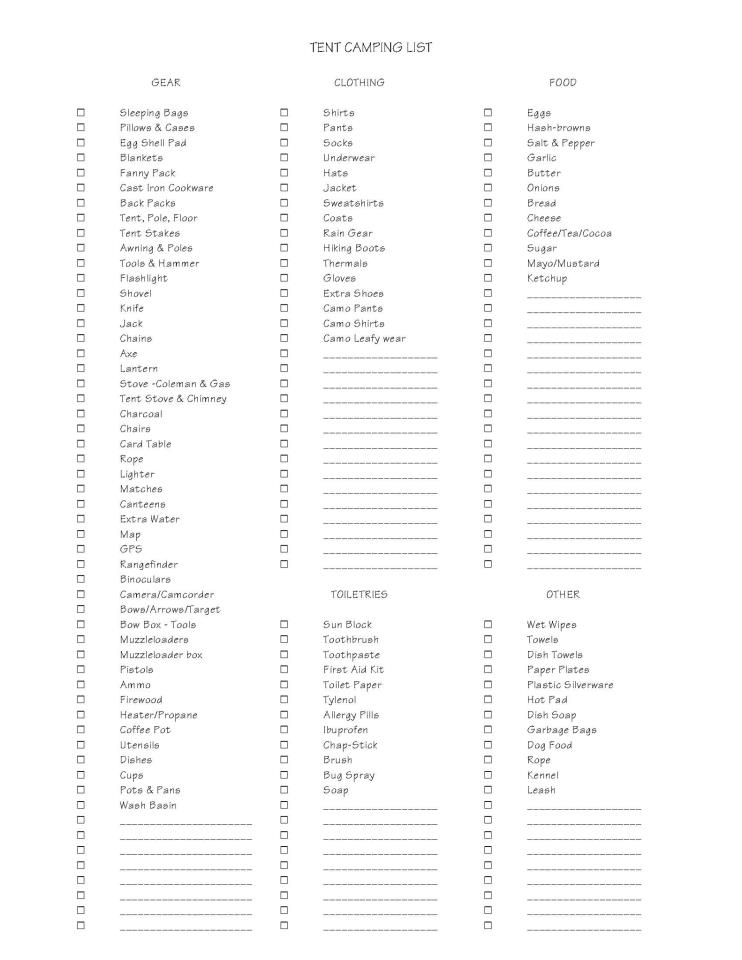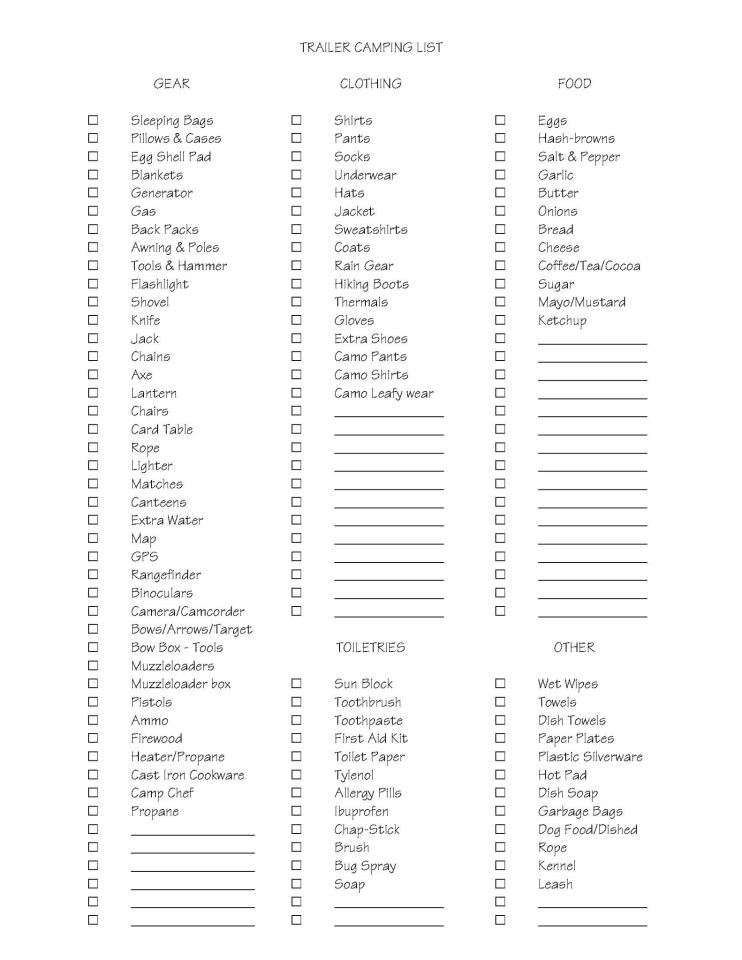 Categories: Women Camp Too